VITAM Hefe-Produkt GmbH produces tasty, vegetarian health food since 1925.
In close cooperation to the German health food shops we have since then developed a high expertise in full-value nutrition.
VITAM feels committed to maintain the health of humans and save the natural environment. This is the reason why, since more than two decades, most of the ingredients used are certified organically grown.
VITAM-R yeast extract is a completely unique product, which we have been selling for over 90 years now. VITAM-R distinguishes itself by a very mild, delicious taste from other yeast extracts. It can be used as a sandwich-spread or for low-salt seasoning. Adds a hearty taste to any vegetarian sauces, stews, etc. It´s richness in B-Vitamins — including folic acid — essential amino acids and minerals makes VITAM-R yeast extract the ideal sandwich spread for vegetarians, for growing children and others with special need for B-Vitamins (also available organic).
VITAM Vegetable-Yeastbroth and Wild-Mushroom-Yeastbroth are the "winners in many food tests". The delicious broths with organic vegetables are cholesterol-free, low in calories and specifically valuable for the human nutrition.
VITAM Yeastbroths are also available as:
Just-like-Chicken in a purely vegan variant of this delicious stock.
Based on the excellent taste of VITAM-R Yeast Extract these bouillons are easy to use and have such a fine taste, that they are not only good for seasoning other dishes, but can also be savoured just on their own – in the office, outdoors or while dieting (also available organic).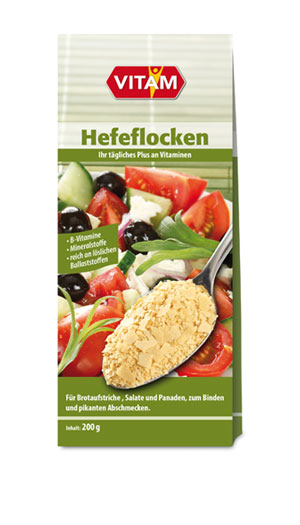 VITAM savoury Yeast Flakes add B-Vitamines to your dishes and can be used as a vegan alternative to Parmesan cheese or Sauce Alfredo. Rich in protein and fibres. For seasoning or binding sauces and vegetable burgers.
VITAM produces a full range of sandwich spreads from organically grown ingredients. With their clear and intensive tastes these spreads offer a healthy, low-fat alternative to comparable products or cholesteremic cheese and sausages.
Vegetable-Spreads vary from Basil, Tomatoes, Kidney Beans, Pepper-Cashew, Red-Lentils and much more…
Sunseed-Spreads are often associated with vegan cream-cheese. They provide the consumer with a healthy mixture of secondary-plant-substances, which support the immune-system, work as anti-oxidants and lower the cholesterol-level. This functional-food comes as: Bear-Paw-Garlic (allium ursinum), Swiss-Schabziger-Clover (trigonella careulà) and Black-Olive.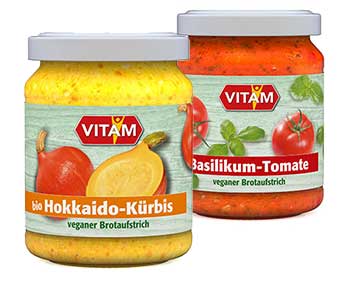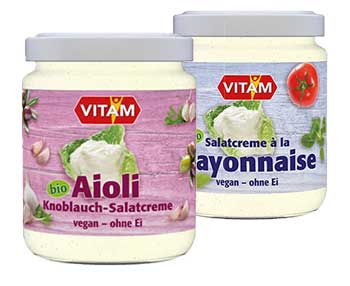 All VITAM Seasonings come in organic quality and are used for seasoning during preparation of foods or for individual refining at the table.
The vegan Salad-Mayonnaise, Aioli and Sauce à la Remoulade (Tartar Sauce) taste excellent with sandwiches, crisp salads or potato snacks, yet they can do without any eggs or cholesterol.
The organic Instant Sauces are convenient to handle and can be used for many purposes. 
The Brown Sauce (Gravy-Style) is a quick completion for vegetarian Burgers, roasts and patties it is free from lactalbumin, lactose and gluten.
German bread, freshly made from whole-grain, is the worldwide synonym for full-value nutrition.
Furthermore, any allergenes and dubious baking aids can be fully waived in the case of self-baked bread.
VITAM Baking Yeast without emulsifiers (for all bread-, pizza- and yeastdoughs) and Original Sourdough for rye-breads permit a simple and timesaving preparation of the breads with a guarantee for success. Other baking ingredients round off the product range.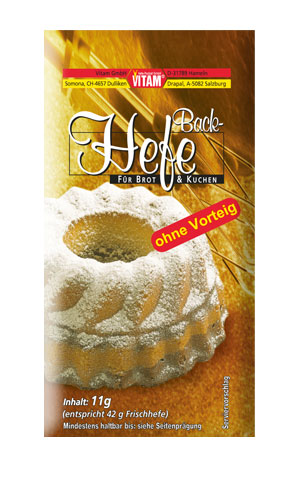 Walter-von-Selve-Str. 2
31787 Hameln
Germany
Tel.: (++49) 05151 95400
Fax: (++49) 05151 954066
E-Mail: info@vitam.de